Harmonic Pictures, LLC is a boutique film production and distribution company, helmed by filmmaker Tom Krueger. Read more about works in progress here.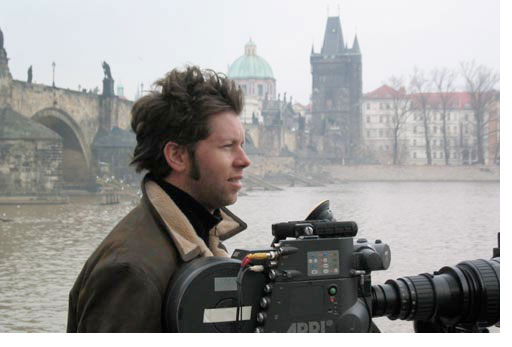 TOM KRUEGER:
Writer | Director | Producer | Cinematrographer
Harmonic Pictures, LLC
A long-time member of the International Cinematographer's Guild and the Director's Guild of America, Tom has shot and directed a wide array of projects from feature films to commercials, music videos, short films, and documentaries.
Some of the projects he has photographed include FISHING WITH JOHN, starring John Lurie, Denis Hopper and Matt Dillon; THE UNITED STATES OF POETRY, directed by Marc Pellington; MANNY AND LO, starring Scarlett Johansson; and COMMITTED, starring Heather Graham, which won the Sundance Award for cinematography.
Tom wrote and directed the short film FUZZY LOGIC, staring Jared Harris and produced by Ted Hope, which was an official selection at the Sundance Film Festival as well as the Cannes Film Festival, and won New York's Gen-Art Film Festival. Most recently Tom wrote, directed, and produced the feature film YOU'RE IN CHARGE through his production company, Harmonic Pictures, LLC, with whom he will also self-distribute the film. His first feature film, YOU'RE IN CHARGE (2013), starring Mary Kay Place, Toby Rodriguez, and Caroline Helm, premiered in November 2013 and has been signed for American distribution in March 2014. Three other features are currently in pre-production.
Tom's recent work includes several concert films, including U2 in 3D, U2 Live at the Rose Bowl, and THIS IS US: One Direction in 3D, directed by Morgan Spurlock. Currently in production is Jim Jarmusch's documentary about Iggy Pop and the Stooges. He has also shot and directed many music videos for artists including U2, DAVID BOWIE, STEVIE WONDER, BRUCE SPRINGSTEEN, BOB DYLAN, LENNY KRAVITZ, REM and many more.